Lea Nixon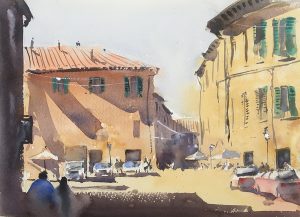 Members enjoyed a water colour demo by Lea Nixon, where he talked through his technique whilst applying it to two extremely atmospheric scenes.
Elise in Mixed Media
We have enjoyed many an expert pastel demo from Elise in the past, but this week she gave a stunning demo in mixed media, giving her signature wildlife portraits another dimension.

Paul Talbot-Greaves tonal values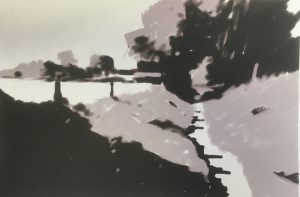 During one demo session Paul created two small  acrylic paintings, first showing us how he prepares with a tonal sketch and proceeds with this always in mind, building up in layers but keeping original marks, colours and brush strokes showing through. He makes it look so easy (2 hours and 29 years!)
Geoff Butterworth demo

Members enjoyed a fantastic watercolour landscape demonstration by Geoff Butterworth last week at Lodge Artists and also appreciated his sense of humour. 
Vic Bearcroft demo a howling success😬!
Surely the most effective, informative demo ever at Lodge? A measured step by step guide to producing a stunning image in pastel on 'velour' board. Starting with a complete blank page, Vic demonstrated his drawing technique, clearly and simply, and completed his atmospheric howling wolf well within the time, having chatted at length in between each stage. Members were able to purchase  a 'kit' with everything they need to follow his You-tube workalong for just £6.99.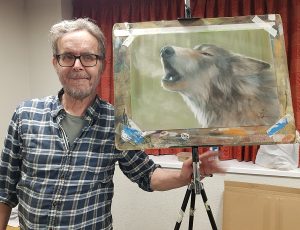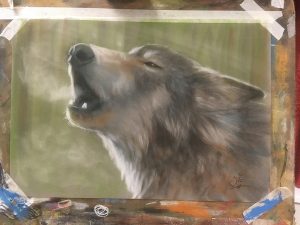 Member Lesley Gardener has used his technique – with great results (below)!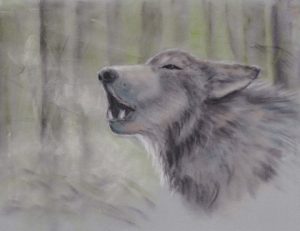 Roger gives us a 'Bob Ross' experience!
Members were treated to a humorous Workalong evening with Roger demonstrating the popular 'Bob Ross' technique, which he has clearly mastered (as shown in the first two paintings shown here). We soon discovered it's not as easy as it looks. However the results were varied and interesting. Well done Roger!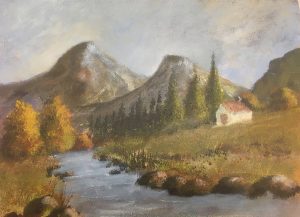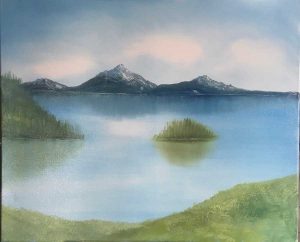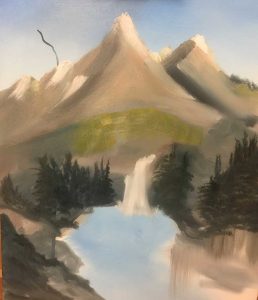 Tony Barrow – Depth in Landscapes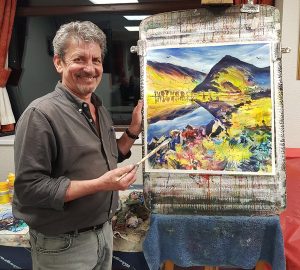 Lodge favourite Tony Barrow entertained as always this week ,and demonstrated a colourful landscape, focusing on creating depth.
Graham McQuade 'plein air' technique indoors
Graham produced a simple canal scene for us, using the technique he uses when he goes out early in the morning to work outside, with all the limitations that brings. He explained the choice of colours for his limited palette and various ways of achieving foliage, stonework and water effects, all with good humour and modesty, making an entertaining session for us.
Les Darlow kicks off 2022 with 3 works in one session!
Always a firm favourite with Lodge members, Les demonstrated his 'loose' technique for creating amazing skies and seascapes with pan pastels and sponges, finished with traditional pastels. Along with plenty of chat and useful tips, he rattled off 3 highly atmospheric paintings easily within the time and left us inspired to have a go ourselves next week!
Judith Herring Scottish Seascape
Judith gave members an insight into her love of the scenery she enjoys on her Scottish art trips with other Lodge members each year. She shared her techniques for blue skies with various cloud formations, turquoise stripey seas and textured shores, rocks and grasses, completing this fantastic example with time to spare!
   
Jeremy Ford Demo – Flowers in Watercolour
What a fantastic demo night! Jeremy Ford was very forthcoming with his talent and knowledge. Flowers? Not everyone's cup of tea, but so many trinkets of knowledge passed down to help no matter what you paint.

Loz gets us into Digital
Members were given an introduction to working with various software available for tablets to create digital art, which he has mastered over the last few years. His light-hearted workalong was much appreciated by members. Thanks Loz!
Graham Berry Masterclass – Sun and Sea in watercolour

Lodge members and guests were treated to a fantastic demo of Graham's watercolour technique as he produced this fabulous painting on the night.
Member Pam Williams' Abstract Art Workalong
Members were treated to a very informative summary of the history and meaning of abstract art and guided through an exercise that resulted in a variety of colourful abstract pieces and a lot of enthusiasm to try it out further!
Steve Crowther presents some digital art to the group
Members were treated this week to a fascinating demo by Steve Crowther entitled 'From Paintbrush to Tablet'. 
Here's one Loz has done since – capturing the scene! Don't miss his work-along on October 13th!!!
Great Sketching Workalong with Rod Walmsley
Members were treated to an excellent workalong with member Rod Walmsley last night when he showed us an amazing selection of sketchbooks he has worked up over the past few years. Rod explained how he sets himself up for outdoor sketching and advised on the right equipment and materials to take. He then demonstrated a pen and wash sketch of a pic supplied by Julia of her house, Slate Delph.
Many members sketched from the same black and white reference, while others sketched their own subjects using his style tips. Rod has promised to do another very soon!
Chris Shields 'Wildlife in Landscapes' sensational demo!
   
Chris Shields gave 20 members some fantastic insight this week into how he creates his amazing work, which combines impressionistic landscapes with detailed realistic wildlife painting – to great effect. He took us partway through a painting, adapting his technique to give us as much information in the time available, so this example is not completed, but already shows the effect he achieves. We all agreed his work is exquisite and it was an honour to see him in action.

Harry Caunce kicks off Lodge demos for 2021!
About 20 members enjoyed watching Harry Caunce create this oil sketch – with plenty of banter and tips on technique and materials. He encouraged everyone to sketch outdoors, as he loves to do in Clitheroe in particular, and to paint every day because, like anything worthwhile, 'it takes practice'.
Tony Barrow's 'aesthetically pleasing' portrait…

Members gathered for our second demo since lock-down with the ever popular Tony Barrow, who entertained us with his light-hearted banter and amazing skills with charcoal and 'a damp cloth' on gesso'd lining paper, producing this fantastic portrait.
Back in business with demo by Judith
Our first demo since before lockdown 13 members enjoyed seeing Judith Herring create a lovely acrylic painting of trees, demonstrating many of her clever techniques, with great results. Next month we have Tony Barrow on 16th September, with space for 22 people. Book in on 'Show and Tell' or email a committee member.
Gerry Halpin's impasto landscape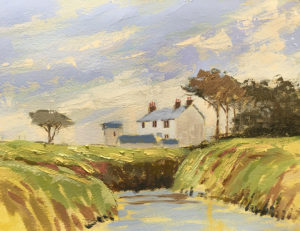 Always a favourite with Lodge members, local artist Gerry Halpin gave a light-hearted and entertaining demonstration, of underpainting followed by impasto using a palette knife, to create this beautiful landscape.
Judith creates a storm
One of our members, Judith Herring, who holds classes locally, treated members to a demo on how to create a dramatic seascape in acrylics this week. She also up-cycles furniture and crafts at 'Finders Keepers' and currently has work on sale at café ambio, Astley Park, Chorley.
Michael Howley demonstrates dramatic skies
Members were treated to some guidance on how to create a dramatic sky in pastels at an evening with Michael Howley.

Rosie's creative demo on card making that recycles paintings..
Member Rosie Rimmer inspired us to use discarded paintings to cut, stamp and stick them into colourful hand-crafted cards.
Elise returns with more inspiration for working with pastels
   Elise was with us again in July using a combination of watercolour and pastel to produce two inspiring wildlife studies.
Summer Still Life – 'Potting Shed'
Try your hand at a still life based on the garden and everything you might find in and around the potting shed. Here are some images to help you create your own composition, in any media. We will be working on this together at the meeting on 31st July. As always, it will be great to see the many different interpretations of one subject.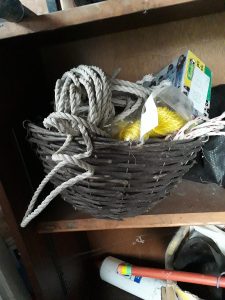 Holiday postcards with Sue Barnes
Sue encouraged members to depict their holiday memories on postcard-sized watercolours, working on a small scale, which produced a variety of delightful images. Thanks Sue for another great Workalong!
Gosha Gibek demonstrates her unique style
Members were treated to a most unusual demo by Gosha with some interesting facts about her progression through her creative career, arriving at her technique of dripping gloss paint from a palette knife for the detail of cyclists and sports people, against a colourful background created with vibrant inks.

Judith Herring shows her style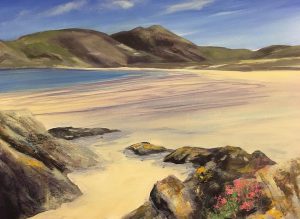 Members were treated to a great presentation by Judith last night as she painted a fabulous acrylic painting from one of her trips to the Scottish coast during the two hours. It was fascinating to watch and she gave an in-depth account of how she builds up the layers, her materials and many useful tips. See her facebook page for details of her classes.
The week before Judith took a 'Workalong', encouraging members to paint light through trees and here are some of the results:
Tony Barrow – an urban scene in acrylics
from this
to this
in less than two hours!
One of our favourite artists was with us again last night and, as always, shared his practical tips and techniques for producing a lively, colourful street scene which developed before our eyes, along with his humorous and entertaining commentary. https://anthonybarrow.co.uk/
Liz Ackerley – Urban Sketching – Colour First
Liz gave members and guests a fantastic insight into her techniques and shared her wonderful sketchbooks with the group. The sketch she produced on the night (shown here in progress) was a great example of her distinctive style.http://lizsscribbles.com/
Les Darlow Workshop – an introduction to Pan Pastels
10 members spent an enjoyable day with Les Darlow recently learning how to use pan pastels to create two snow scenes – one a vibrant sunset and the other a  frosty lakeside scene. Here are some of the results:
Jeremy Ford drops in for a demo
Lodge Artists were fortunate in persuading this popular artist to call in on his way back from Southport to Pontefract to give one of his rare demonstrations (these days). He shared tales from his background and career in art as well as his techniques and choice of materials while producing a delicate watercolour with autumn colours. We hope to arrange a workshop in Spring to learn more.
Lea Nixon – two 'quick' watercolours
Lodge members were treated to a fabulous demo by Wigan artist, Les Nixon, resulting in these two watercolours, well within the two hour session.
Find out about his water colour classes Fridays 10am – 12noon at Sunshine House, Wellington Street, Wigan WN1 3SA.
Tel: 01942 820026  www.leanixon.co.uk
Life model – Ian Richardson
Members made 4 sketches of life model Ian Richardson during the evening meeting.
'Soggy Seascapes' by Susanna Heath
Susanna demonstrated her techniques using Windsor & Newton 'creamy' acrylics to produce atmospheric seascapes.


www.susannaheath.com
Liam demonstrates his brilliant skills
Lodge members were treated to a demo by talented local artist Liam Dickinson this week. His technique was to put down the colours loosely in acrylics and then work into it in oils.
    
His recent projects have included live portraits at weddings and other events www.eventsoncanvas.co.uk

Gerry Halpin has fun with figures
Ever popular visiting artist Gerry Halpin demonstrated how he composes figurative paintings using his collection of sketches and photographs, with a simplified style and carefully planned colour palette. He urged members to have a go and have fun with it.
Workalong – Lyme Bay
Member Jackie Williams took a Workalong session to produce a painting using her photo of Lyme Bay in Dorset as reference, with a limited palette of acrylics and a loose technique.
 Lyme Bay photo  
  Lyme Bay by Jackie Williams
Here are the various interpretations by members:
Les Darlow dazzles once again with his pastel landscapes
Les produced two fabulous mixed media seascapes, combining inks with soft pastels, showing how to work with your own bespoke coloured background on quality pastel paper. A third (below) was using pan pastels and was done in just 10 minutes!
Another great watercolour demo by Paul Talbot-Greaves
    
A large audience of members and guests enjoyed watching Paul create this impressive watercolour explaining each detail of his technique and materials used.
Amazing demo by Tony Barrow!
Guests and members were bowled over once again by Tony Barrow's great work, producing two fabulous pieces during the session.
Graham Berry – People and Places in watercolour

Graham's paintings are inspired by the effect of light and shadow on our environment, creating dynamic shapes and colours. He especially enjoys painting people going about their everyday lives.
www.grahamberrystudio.com
Elise demonstrates her pastel skills
Elise gave members a fascinating demonstration of her skills with pastels, producing this beautiful hare during the two hour session. She later did this sketch of a horse with no reference in about 10 minutes flat!
Harry Caunce paints a snow scene in oils
Harry demonstrated his skills in oil painting, providing a humorous commentary with tips and techniques, with an interpretation of a recent sketch he made en pleine air near Pendle Hill.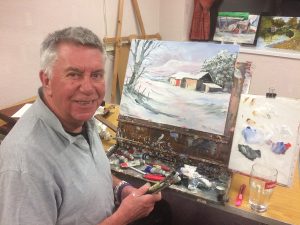 Les Darlow – Dramatic landscapes using Pan Pastels
Les Darlow loves pan pastels and he shared his enthusiasm for them with Lodge members at our recent demo. During the session he produced two stunning images with magnificent skies and crashing waves (complete with sound effects!).
www.lesdarlow.com
October Demonstration – Edward Foster.
An unusual approach to drawing and painting direct from the mind. Inspiration comes from any recent notable experience which forms the main subject which is then added to by clearing the mind and the pencil is then used to elaborate the image randomly (doodling) until an image is developed and refined to produce a natural abstract picture.   The workalong consisted of volunteers starting with a part image chosen from one of Ed's sample drawings and each participant produced a completely different natural image with some very surprising and intriguing results.  Each participant was given a piece of A4 paper and a pencil to start with and the resulting drawings were explained by the artist!
       
Judith Farnworth demonstrates watercolour techniques – Venice in watercolour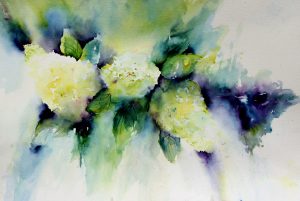 The demo consisted of working in water colours directly from a black and white misty photograph to demonstrate the theory of working from indistinct tonal images. She also suggested using any colours from a choice of three or four. This included working with only one colour in various tones for best effect.
Members found it very informative and a new look at basic techniques. Judith showed us how to modify these techniques to get the best effects, with the minimum of effort.
Frances Winder returns to show more of her exciting techniques
Frances is bordering on the abstract side in her painting and she showed us how to not be afraid to lay paint on the paper or canvas and the effects that were shown when she rubbed off areas, scratched into the paint and generally enjoyed the creative process.
Leanne Ellis visits Lodge Artists
Leanne Ellis was with us on 21st June demonstrating her techniques for producing landscapes on paper and canvas using acrylics.
Local Artist Rob Miller demonstrates techniques with Oil Paints
Rob showed us how he builds and mixes colour on the paint surface with underpainting and brush strokes to create a simple landscape from his library of sketches of local scenes.
Anne's sketchbooks inspire members to do more sketching
Lodge member, Anne Houghton, lead a discussion about keeping a sketchbook, having encouraged members to bring their own books in to share ideas. This was a very enjoyable meeting and Anne's own sketches showed how she records her observations, with great economy of line and colour, to successfully conjure up the atmosphere and character of her chosen subjects.
Fiona Peart demonstrates 3 brilliant pieces
Fiona never fails to impress Lodge Artists members with her skills with watercolour. This time she produced a stunning image of figures by the sea, which showed how a piece painted in the studio can look like it has been painted 'en pleine air', showing the use of masking fluid and texture in her characteristic style. She also showed us how to sketch with watercolour, avoiding the use of outlines and using the shape of her brush to create the forms. The painting and two sketches were all completed within the evening session.

Anthony Barrow working with Pastels.
Members enjoyed a demonstration by Anthony Barrow on how to create stunning landscapes in pastels.
    
Lea Nixon demonstrates his skills with watercolour
This week saw Lea Nixon from Wigan producing two watercolour paintings during the session, showing how he creates light in his work, with his signature shadows and fluid lines. More of his work can be seen on www.leanixon.co.uk
Frances Winder uses oil pastels and gouache for texture and colour
Frances gave a demonstration to show how she achieves so much texture and vibrant colour in her work. She started 3 different paintings during the short session and showed us many of her brilliant works in acrylic and watercolour as well. Very inspiring!
see more of her work at www.franceswinderart.com
Marian Dutton demonstrates her 'Healing Art'.
Marian shared her techniques and painted a view of Tuscany with poppies in acrylic on canvas during our September guest's spot. Several members purchased her book which is available on her website and describes how painting can help overcome illness, from her own experience. www.mazartstudio.co.uk 
    
Les Darlow dazzles with his dramatic skies
Members were treated to a demo by Les Darlow on how to a produce a vibrant sunset in pastels.  Working from dark to light, it was fascinating to see his amazing technique take shape before our eyes.
  
Peter Woolley Rocks!
Peter Woolley entertained us with his humour and his well-explained water-colour techniques and produced one of his delicate studies of a rocky landscape before our very eyes.
Find more of his work at www.peterwoolley.co.uk
Full Day Workshop with Tracy Levine
On Saturday 9th April Tracy Levine, reknowned Cumbrian artist, came to Lodge Artists HQ in Brinscall for a full day workshop on landscape painting in acrylics and mixed media. As always the group had a wonderful day, learnt a lot and produced some great experimental work.
Elise Nimmo – hints and tips for painting animals
Elise used pastel on mount board to produce this very nice portrait of a fawn. She explained how to create the eyes of different animals, drawing on her studies of animal behaviour over 4 years. She also produced a horse study in pen and wash. To follow up she sent her tips on eyes by email, and is also calling in to see how members get on this week putting it all into practise.
Anthony Barrow – two fabulous portraits in one session!
Anthony Barrow was with us again this week to demonstrate painting a portrait in oils – and he produced two great pieces of work which the models were thrilled with, especially as he gave them the paintings at the end of the evening. Next week we will be trying out his techniques for ourselves. Great inspiration.
Chris Oakden – figure painting
Member Chris Oakden showed members and guests his techniques and tips for painting figures – how to mix colours, identify planes and create a good composition.

Lodge Artists try out pencil techniques
Following the demo by Joanne last week, members produced some sketches using graphite and coloured pencils.
Joanne T Kell Wildlife Artist – an insight into working with pencil
    
Joanne gave a fascinating demonstration of her technique with graphite and coloured pencils, showing the progression stage by stage of several beautiful animal portraits. www.JoanneTKell.co.uk
The following week members tried to put into practice what they had learnt!
Julie Nash shows how to bring animals to life in acrylic
 
Julie worked on an acrylic painting of a King Charles spaniel, showing how she mixes colours and creates great effects on fur and animal features. www.lickychickstudio.co.uk
Ruth Kidd demonstrates Mixed Media techniques
Using tissue paper applied to stretched watercolour paper, Ruth showed us how she mixes her colours and then produced a delicate painting of pansies with a 'batik' effect within the two hour demo. She then kindly donated the painting, which will be raffled for charity by the Society at their forthcoming exhibition in The Farmhouse Gallery 'Blooming Beautiful Brushworks', on a floral theme.

Gail demonstrates 'Reverse painting'
Gail McArdle gave Lodge members a demonstration of her own special techniques, which she uses to produce colourful semi-abstract paintings of birds and flowers, and came back to give a practical a workshop the following week. She creates simple shapes and paints loosely onto a painted background, then adds texture with assorted media and tools. Finally she cuts in to refine the shapes to great effect.
Janet Ashworth shows us how to 'play'
Janet gave a demonstation of her techniques to produce abstract paintings created from 'happy accidents' using such materials as car spray, rubber stamps, wax crayons, and glitter pens along with traditional painting and drawing techniques. Armed with cutting board, pencil, Stanley knife and ruler she looks carefully at the large pieces of work she has created and cuts out areas that work in isolation, often turning these into unique and original greetings cards.

Fiona demonstrates her wonderful washes
Lodge members were given a very impressive demo by renowned water colour artist, Fiona Peart, last week. She rapidly produced two beautiful, moody scenes of boats in harbour settings using a limited palette. http://www.fionapeart.com
Harry Caunce entertains and inspires us…
On another entertaining and informative visit to Lodge Artists, Harry gave members a step-by-step demonstration of his techniques and style of oil painting, creating a dramatic sky and seascape, all within the time frame of under two hours.
Gerry Halpin gives us a snowy view of The Pike
Lodge members were treated to an expert demonstration by Gerry Halpin of his style and techniques using acrylic paints at the meeting last night, and this delightful snowy scene in Rivington took shape before our eyes.
  
Workshop with Tony Barrow
Lodge members were so impressed with a demonstration given to the Society earlier this year by Tony Barrow, that they asked him to come back to do a Workshop, so they could try out his techniques, and benefit from some hands-on guidance from him. Pictured here with some of the members who took part, Tony was entertaining as always and created the dramatic portrait shown below on the day.
Tony Barrow (2nd row left) with Lodge members last Saturday.
The resulting paintings by members.
Chris Ogden – squaring up and looking for planes
Lodge member Chris Ogden gave us some insight into the unique technique he uses to produce stunning paintings full of colour, pattern and three dimensional imagery. He was working on one of his latest paintings – a stunning portrait of Leonardo de Caprio, shown here.
  
Mixed Media Treescape by Tony Hogan
Lodge members were this week given an introduction by Tony Hogan to many new materials and techniques and watched as a vibrant, atmospheric treescape – representing a familiar scene from his local area in Yorkshire – took shape before their eyes. www.hoganart.co.uk
Another fantastic demonstration from Paul to Lodge Artists' members this week, with some useful tips and inspiration. See more of his work www.talbot–greaves.co.uk/
 Alyson says 'go with your gut feeling' and do it your way!
This week saw a demo by Alyson Telfer giving her own very personal slant on painting and what it means to her, how she works and why. We saw two very different styles of work taking shape in front of us – one with very loose brush strokes depicting birds in flight and another (shown below) building up layers of detail using acrylic inks, a pen and brush and her own very effective 'dot' technique. The society are now looking forward to trying out some of her very inspiring ideas.
See more of her work at www.actelfer.co.uk
Sue Barnes on Matisse
Lodge Artists member Sue Barnes inspired members to create their own tribute to Matisse and his unique style and methods, using paper cut-outs, in his later years. Having visited his exhibition in London, Sue was able to pass on her enthusiasm and ideas about his technique and the result was the vast array of colourful and imaginative  pieces of work, shown here.
Terry Harrison – did he mention his new book?
Terry Harrison was with us this week and shared many of his 'top tips' on watercolour techniques, whilst re-creating one of the watercolours of Polperro featured in his new book 'Painting Boats and Harbours in Watercolour'. Artists from other local groups joined us to enjoy this fantastic (and very amusing) demo. You can see more of his work on his website www.terryharrison.com
   Duncan Ibbotson – Vibrant Pastels
This week we experienced 'vibrant pastels' with Duncan Ibbotson who gave a detailed briefing of how he approaches painting, with a step by step insight into the production of a piece of work in his unique style. He promised to send us a copy of the finished painting which was taking shape before our eyes. Very inspiring.
Rob Edmonson on water, finding your own style and 'making marks' with paint.
Rob gave us a fascinating demonstration of how he approaches painting and some helpful tips and techniques to achieve special effects using acrylics. After teaching painting and ceramics for 39 years he is now enjoying travelling and gathering inspiration for his painting. Next week the group will be having a go!
Kate Bentley's Stunning Waltercolour Flowers
Kate Bentley gave a great demonstration to members on Wednesday 26th March with a very detailed briefing beforehand on paints, brushes, paper and all the tools needed to achieve the best results. The group found it all extremely inspiring and the painting she created on the night was absolutely beautiful. See more of her work on www.katebentley.co.uk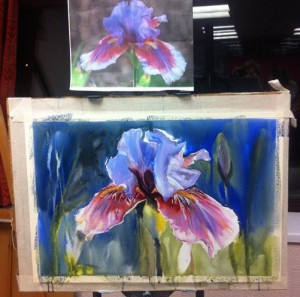 Brusho Workshop with Judith Farnworth Saturday 8th March 2014
16 members enjoyed a day learning Brusho techniques, with a morning of experimental pieces, and, after lunch, a step-by-step guide to producing a beautiful picture. The work was later displayed all together and showed the vibrancy and range of marks that can be achieved with this medium. Read more on Judith's blog http://judithfarnworthart.blogspot.co.uk
In February Anthony Barrow gave members a very informative demonstration on his techniques and produced a fantastic portrait in just a few hours. His enthusiasm made everyone want to try and follow his tips and advice and so he has now been booked for a workshop in October. See more of his work on his website www.anthonybarrow.co.uk
Watch the time lapse video of this demonstration https://www.youtube.com/watch?v=L9ZzXoXXlXk