Sketching in Astley Park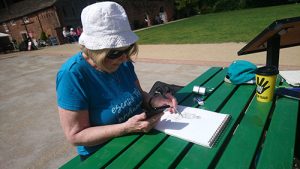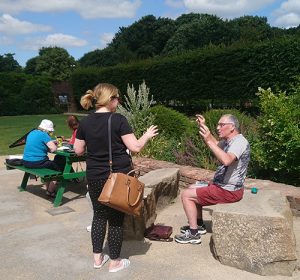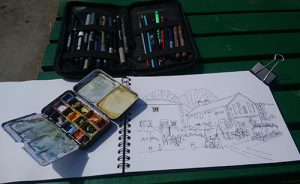 What better way to spend a lovely summer afternoon than sketching with Rodney in Astley Park? While the clubhouse was closed for a special event members spent the afternoon following Rod's example of how to fill a sketchbook with fabulous observations and creations.
  Next demo – Elise Hendry Wed. 20th July
Pam in praise of Mackintosh
As always, a fascinating talk and work along from Pam Williams, whose enthusiasm for everything Mackintosh was truly infectious. Members then experimented with his style to produce their own design, as shown by Rod Walmsley's delicate piece above.
Loz teaches how to create on tablet

An enthusiastic group of members took advantage of the chance to learn more about how to use Procreate on their tablet with Loz at this week's meeting. He has developed his skills over the last few years and sold many of his prints as well as winning awards at our exhibitions for them.
Pastels in the style of Les Darlow
Following our latest demo by Les Darlow last week members tried out his technique at the next meeting, with some satisfying results, Rodney working from  imagination, Julia encouraged by Polly working from the same reference and Jackie remembering a Florida sunset.
l. Rodney    r. Polly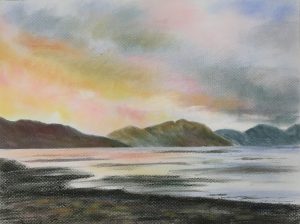 l. Julia    r. Jackie
Christmas Party Enjoyed by All!
Lodge Artists' Christmas Party 2022 was held at The Dressers Arms, Wheelton this Wednesday (15th December) and was well attended by members, who all agreed the food and service was first class. We also had a bit more room to circulate than previous years. Chloe and Jonathan were presented with two of Kev's paintings, which he kindly donated and we got framed up, to thank them both for their work at our meetings throughout the year.
Val sweeps People's Choice Awards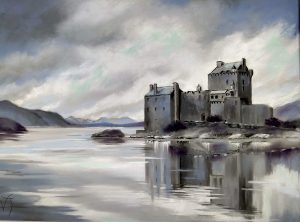 Val Jones won this year's People's Choice Award with her pastel 'Eilean Donan Castle' with 27 votes, and took second place as well for 'Plockton, Scotland' with 24. Third place went to Rod Walmsley for 'Skippol Creek' with 23 votes.
Votes were spread widely over all the paintings and everyone got at least one vote.
Those with 10 or more were as follows:
Pat Richardson 'Heather's Out' – 20
Rod Walmsley 'Old Railway Bridge' – 18
Jackie Williams 'Dunes' – 15
George Horsfield – 'Jamie Frazer' – 15
David Jenkins – 'Farne Islands' – 15
Jackie Williams – 'Octopus's Garden' – 14
Rod  Walmsley – 'Post & Pebbles' – 13
Pam Williams – 'Old Town Square' – 13
Lorna Hulme – 'Cherries' – 11
Sue Barnes – 'Meadow' – 10
  Chorley Guardian.
Pam's cards selling well in The Coach House

Sir Lindsay was impressed by Pam Williams' work turning prints of members' paintings into cards to sell in aid of St. Catherine's Hospice, and purchased several himself. He and his wife also started their Christmas shopping by buying two paintings – one by Julia Rowley and the other a digital masterpiece by Loz Lomax.
  Julia's painting, which won Lodge's September competition 'A Riot of Texture'.
Sir Lindsay launches a 'fabulous display of talent' at our annual exhibition.
Lodge Artists have been busy painting all through lockdown and have helped many Chorley residents to take up art as a new and rewarding hobby. Both V.I.P. guests at this event, held at 10.30am in the Coach House Gallery on Saturday 6th November, have been great advocates of the arts in the town in recent years, so it was very fitting that Father Neil of St. Laurence Church and Chorley's own MP and Speaker of the House of Commons, Sir Lindsay Hoyle, should be judging and presenting the awards.
Once Sir Lindsay had called 'Order!' to the gathering of members and guests, Jackie Williams, Chairman of Lodge Artists welcomed everyone and handed over to Father Neil to describe how and why he had chosen each winning painting. There were six awards for: Best Pastel, won by 'Sunbathing' by Kev Fowler, Best Oil, won by 'Storm over Bute' by Roger Gillet, Best Watercolour, won by 'Esthwaite Water' by Pam Williams, Best Acrylic, won by 'Old Railway Bridge' by Rod Walmsley, Best Drawing won by 'Til Death do us Part' by Phil Catterall, and Best Mixed Media, won by 'Heather's Out' by Pat Richardson. When it came to choosing 'Best in Show' he said he closed his eyes and imagined which of the paintings he had studied he would most want to hang on his wall, and decided it must be a joint award – for one 'traditional' and one 'modern' – and he chose 'Colours of Scotland' by Judith Herring and an abstract 'Octopus's Garden' by Jackie Williams.
Sir Lindsay congratulated all the winners and all the other exhibitors, saying the fabulous exhibition showed a wealth of talent of which the town can be proud. He urged people to spread the word to their friends and family to visit the exhibition and get involved with the creativity that is growing and thriving in the community.
Covid precautions will be taken in the Gallery, making it a safe environment, and it is a great opportunity for art lovers to meet and chat to members of the society and even consider having a go themselves, as newcomers of all abilities are always made very welcome to join the society. 
Exhibition opening times are:
Friday, Saturday and Sunday: 10am-4pm until Sunday 28th November 2021.
The Coach House Gallery, Astley Park, Chorley is next to/above Café Ambio.
Our 43rd Exhibition starts soon!
Sir Lindsay Hoyle will be presenting the awards on Saturday 6th December 10.30am in The Coach House Gallery, Astley Park, ably assisted by our judge Father Neil of St. Laurence Church.
 
Exhibition runs from Friday 5th to Sunday 28th November 2021 10am – 4pm Friday, Saturday and Sunday. Admission FREE!
Margaret Lowe
One of the early members of the Society, shown here receiving an award at one of our annual exhibitions in Astley Hall, has passed away. Many of our long-standing members, who remember her fondly, may wish to send their condolences to her family, as we do here as current members.
4 paintings sold so far in Café Ambio
Brenda Smith –  'A Riot of Colour'
Julia Rowley – 'Yorkshire Sunrise'
Rod Walmsley  – 'Pembrokeshire Coastal Walk'
Loz Lomax – 'Walk with Me'
Well done guys!

Catch our next demo night – Wed. 20th October 2021 7.30pm!
All welcome!
St.Laurence Exhibition raised £421.35 for church funds!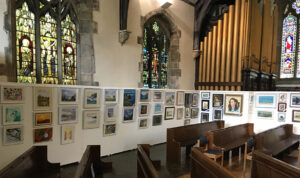 Our Summer Exhibition 2021, the first ever to be held in St. Laurence Church, Chorley, achieved £1,685.00, 22 paintings sold, resulting in commission of £421.35 going to the church.
Good luck Pat with your exhibition!

Member Pat Richardson has a solo exhibition in St.Laurence Church, Chorley from Tuesday – opening times Tues-Fri 11am – 2pm, Sat 1pm – 4pm (weddings permitting) and Sunday 12noon – 3pm.
One Day Exhibition TODAY!
Another great display of original art at bargain prices for sale throughout the day TODAY (19th Sept.'21) at our HQ, BWARA, on School Lane, Brinscall 10am – 4pm. Entrance just £1, children free. Don't miss it!
Members raise £50 for Alzheimer's research
Thanks to Polly Carr, members recently donated £50 to this worthy cause by purchasing art materials from a friend who has recently been diagnosed with Alzheimer's.
Ex secretary of Lodge Artists dies
It is with sadness we have learnt that a former member of Lodge Artists Society, Joan Bond, who was Secretary for many years in the very early days, died on Saturday. She left the art group after suffering a stroke several years ago. Our sympathies go out to her family and friends.
5 days left at St.Laurence Church – 18 sold to date!
Members to collect paintings on Monday 2nd August. Exhibition team will dismantle from 9am. All work must be out before 10am.
Painting Padiham Sat 11th September
Sketching in Astley Park
   Our expert sketcher Rod at work.
  New member Paula
Great to see our two newest members, Paula and Phil, amongst the members who met in Astley Park for a rare outdoor meeting this week, sketching in the evening sunshine. Beautiful!
New Member
Congratulations to our newest member, Phil Catterall, for coming in second in the June Theme Night 'A Day at the Seaside' with his charcoal work. Great to have you with us Phil!
St.Laurence exhibition almost midway with 9 sales so far!
images by ISF photography.
Lodge is back up and running!
14 members got together on Wednesday (9th June) to resume regular weekly meetings of Lodge Artists at BWARA HQ in Brinscall. There were a good number of entries for the competition, Best Lock-Down Painting, which was won by Julia Rolwley for her landscape in oil, shown above. 2nd went to Pat Richardson and 3rd to Jackie Williams. You can see all three paintings in the gallery.
Next week is a demo presented by Harry Caunce who will be painting a 'Ribble landscape'. Non members are very welcome (£5 on the door). Please book your place via info@lodgeartistschorley.org.uk so we can make sure numbers allow for safe spacing out of seating.
Great start to the exhibition with 3 sales

Congratulations to David Jenkins, Sue Barnes and Pam Williams!
Support from Sir Lindsay for our exhibition

Lindsay Hoyle visited our exhibition in the church on Tuesday as it opened lending his support and encouragement.
Lodge Artists Summer Exhibition 2021
St. Laurence Church, Union St, Chorley PR7 1EB
Tuesday 1st June to Saturday 31st July 2021 inclusive.
Opening times:
Tuesday – Friday: 11am-2pm 
Saturday: 1pm – 4pm (weddings permitting) 
Sundays: 12noon – 3pm.
Entrance free
Lodge Artists are proud to be launching this unique exhibition space with our first exhibition for 2021.
Come and enjoy a great variety of local art in the beautiful interior of this ancient church building.
(Pen and wash sketch by Rod Walmsley, Lodge member)
See the Exhibitions page for results of 42nd Annual Exhibition awards!
Covid Creative Corner
Week 56 – Tombstones and churches.
Week 55 – Cock-a-doodle do!
Week 54 – Primary colours
Week 53 – Reflections
Week 52 Robin Hood's Bay
Loz Lomax            Lorraine Douglas        Julia Rowley      Lesley Gardner
Week 51 Ice cream vendor
Julia Rowley             Rod Walmsley        Loz Lomax
Week 50 'Buzz off'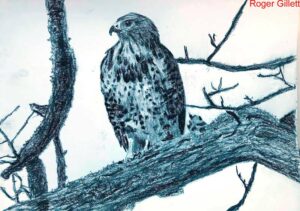 Week 49  Gnarly old stump
Week 48 – reflections (from a photo by David Tonge)
Week 47 – Book Worms – your favourite book.
Week 46 'Spring Flowers'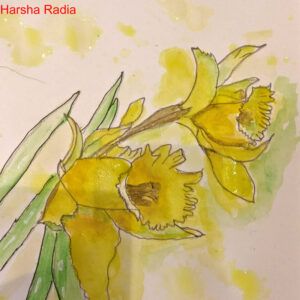 Week 45 'Paint a House'
Week 44 'Sunset'
Week 43 Love
Week 42 Paint From the Imagination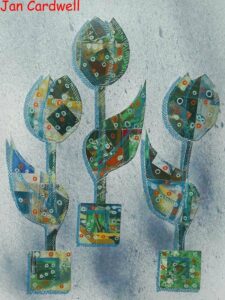 Week 41 Tractor
Week 40 Art Card
Week 39 Golden Temple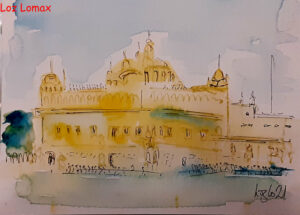 Week 38 Greek Donkey
Week 37  Flat illustration
Week 35 – Winter Scene
Week 34 – 'Dotty'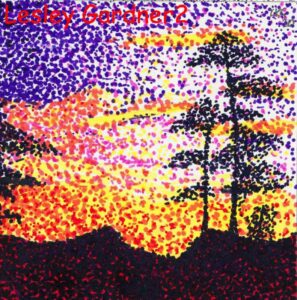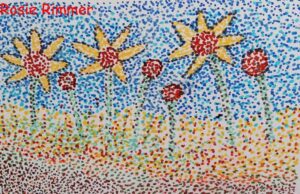 Week 33 – Bananas!
Week 32 – Boots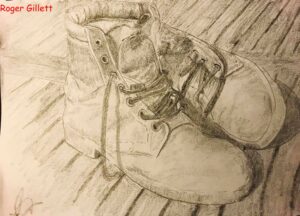 Week 31 – Roddlesworth Woods, Lesley Gardener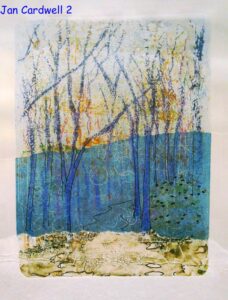 Week 30 – Ju's sheep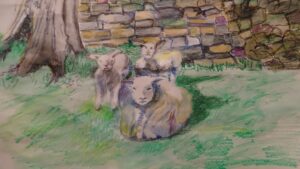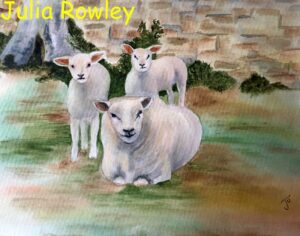 Week 29 – Harsha's trip to Kerala
Week 28 – Christmas card designs
Week 27 – Mount Cook.
Week 26 – Hot Hat
Week 25 – Cats
Week 24 – Keswick
Week 23 – It's Movies Week (roll on Strictly!)
Great work! – well done everybody.
Week 22 – Have a go at an abstract!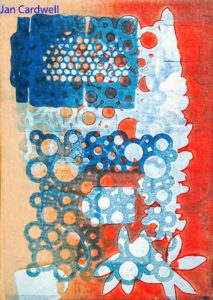 Week 21 (I think!) – only two entries this week for the re-creating of a favourite well known painting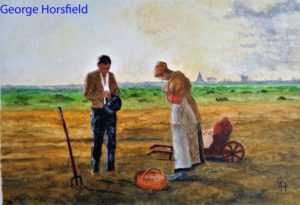 Can you guess what they are?
One-Day Sale at BWARA – report from Polly…..
"Well, we did just manage to go ahead with our one day sale.
With all the restrictions, I did wonder if we would, get enough members to display paintings and help set up!
My worries were not necessary because Lodge Artists Society members rallied.
The exhibition was a credit to the Society with an estimated 70 paintings framed and unframed on display, all set out 
with necessary guidelines in place.
We had a steady footfall throughout, selling 3 paintings and Rosie doing a great trade with her beautiful cards.
Our visitors were interested in the Society and hopefully watching our website to see what is happening and some
 wishing to come and join us.
A very big thank you to all those members who helped in any way.
Please keep safe and we all hope we can meet again, but I don't think it will be soon.
Regards Polly".
Covid Creative Corner
Second CCC – 'Yellow':
P.P.P. has now been replaced with C.C.C. ! As we now have resumed regular meetings at BWARA twice a month, the new challenge will on the 2nd and 4th Wednesdays of each month, giving you two weeks to do it. The first one is 'things you see at the zoo'.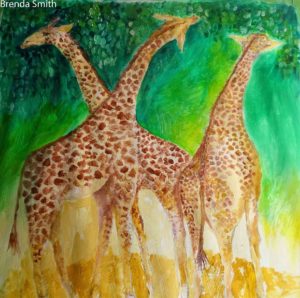 One Day Exhibition at BWARA
Pleased to announce our annual one day exhibition at our HQ, BWARA, will go ahead on Sunday 20th September 10am – 4pm, organised as always by Polly. A chance to sell framed paintings and also any you have with mount only. Please see Polly for further information and offers of help on the day.
Covid-19 changes update
Due to the crisis our exhibition in Cafe Ambio has been extended throughout August. The new one, which was for 3 months from 1st September has had to be cancelled so others can have the space for a while. Members with work in there must collect at 8.30am Tues. 1st September please.
Meetings at BWARA will now be 2 per month – the first and 3rd Wednesday in the month. Please see the diary page
We meet again!
Well, it was a bit strange, but about 15 members attended our first meeting since lock-down and we held the July competition, set by Kev, entitled 'Freedom, with a good show of entries. The winner was Pat Richardson, following a three way tie for first place and the remaining votes very evenly spread among the others. Some great work being done, as we have seen with the weekly project (some 285 paintings in all). The good news is that Kev has offered to keep this going with a Monthly Challenge (by popular demand). Please see the Facebook Show and Tell page for details – and keeep painting! (and stay safe?).

News flash –
First meeting after lock-down now confirmed as Wednesday 29th July at BWARA 7.30pm. Please read the risk assessment (sent by email) and bring a signed copy with you. 13 people so far – room for a few more.
Pauline Collins
It is with great sadness that we have learnt that our dear friend and fellow member Pauline Collins has died, following a long illness, which she managed so well for many years without one murmur of complaint or self pity. She was always smiling, always positive and great fun to be around. She only recently stepped down from the committee having worked tirelessly for the society in many official roles through good times and bad – often doing battle with the authorities to get a better deal for us in Astley Park! She was one of our longest standing members and was made a Life Member a few years ago.
It goes without saying that she had enormous talent, about which she was extremely modest. She was always among the awards at our Annual Exhibition each year, and often won either the members' favourite or the people's favourite – sometimes both! Many followers turned up each year looking for her work. She painted amazing skies and silver birch trees with her signature little fox peeping out. I loved her paintings and we all loved her. R.I.P. Pauline. We will all miss you so much.
Here is a message from Pauline's husband, Rod:
"Her message to us all is try not to be too sad. Pauline lived life to the full and didn't want to linger on in pain.
Instead she passed away quite peacefully at home."
Weekly Painting Project
Week Eighteen – 15/7/20 to 22/7/20
 Announcement by Kev:
'That's all folks for the PPP!
As of next Wednesday we will be resuming meetings at the club, so PPP has become redundant.
There is no project for this week which will allow you to finish off the Freedom painting which was announced a few weeks ago. Please don't post your "Freedom" image on the internet until after they have been shown at the club meeting next Wednesday evening.
Anyway after 18 weeks of lockdown it is sad that we are calling an end to PPP. It has been great fun and has kept us in touch with each other through these unprecedented times. The 18 ideas or images have inspired members to throw paint at 285 artworks. Each week we have had between 11 and 22 members taking part so, well done everyone. I hope to see you all at the club next Wednesday, if not sometime in the near future.
Thanks for making PPP the success it was'.
Well done Kev and thanks again from everyone!?  Now I need to get to work thinning down the gallery!! (JW).
Week Seventeen – 8/7/20 to 15/7/20
Love that special one Rosie!
Week 18, and something we haven't done yet. K9!
Attached is a photo of the dog, a cockapoo I think. Picture with permission of Phil Green.
You know the rules, there are none except start painting and finish by next Wednesday.
Week Sixteen – 1/7/20 to 8/7/20  Delicious (or, if you prefer, Delightful)
PPP we have an extra P this week. This one is Pauline's Pandemic Painting Project as Pauline responded to my request for images or ideas and sent me a couple of pictures. One was the Ram we did earlier. This one is one of her coastal scenes. I don't know where it is, must be Scotland somewhere, maybe others can help. Again no rules just fling paint and enjoy.
RIP Pauline.
Week Fifteen – 24/6/20 to 1/7/20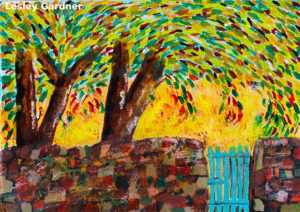 Nice work everybody! Here's Kev's idea for this week:
O.K. Let's see what we can do with this one. PPP No. 16 Delicious.
It's a word that transcends all the 5 senses, more for taste but a kittens fur could be delicious to the touch. The smell of doughnuts could be delicious to the nose, a merging of colours can be delicious to the eyes, a Beethoven symphony can be delicious on the ears.
So what can you make delicious… let's see what you can do.
Good luck, let's try thinking outside the box for this one.
If you are struggling to get your head around Delicious then try Delightful.
Keep safe and keep painting.
Week Fourteen – 17/6/20 to 24/6/20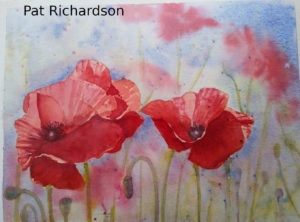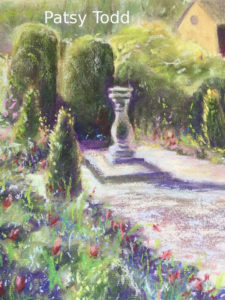 Kev says:
This week we say thanks again to Judith Herring for her photograph of "Somewhere In Scotland – I Think!"
This looks rather difficult, it's just a tree and a wall, in a bleached out photo, but how do we make it interesting? Well that's up to you folks. Get your brushes out and conjure or your magic.
To get the most out of this weeks project I suggest we all stick to the picture. But then again No Rules!
Week Thirteen – 10/6/2020 to 17/6/2020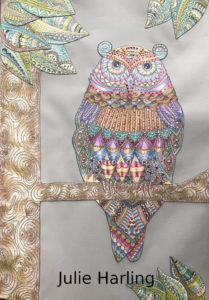 After watching Breakfast TV yesterday morning when he saw them celebrating British Flower Week, Kev thought 'what perfect subjects for artists'.
So Week 14 is paint a picture to celebrate British Flower Week.
Welcome Chloe!
Welcome to our newest member, Chloe Hutchings, Jonathan's sister!
Weekly Painting Project
Week Twelve (late due to technical difficulties) 3/6/2020 to 10/6/2020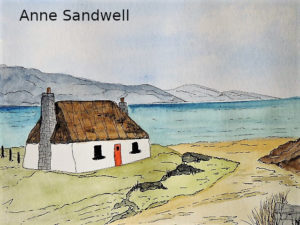 This week for the Pandemic Painting Project (Week 13) it is Pick a bird any Bird, Paint a bird any Bird.
The rules are simple No Rules except that the painting must be started and finished between now and next Wednesday.
Keep safe. Keep painting.
Week Eleven – 27/5/2020 to 3/6/2020
Nice work guys – keep it up.
OK let's get back to imagination again this week, for week 12 of PPP let's paint –
Something You Can Live In.
It could be a house, your house, a castle, a canal barge, a tent ….. whatever BUT you must show us some perspective!!
Ha ha … that will be the challenge!
Week Ten – 20/5/20 to 27/5/20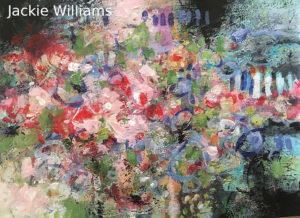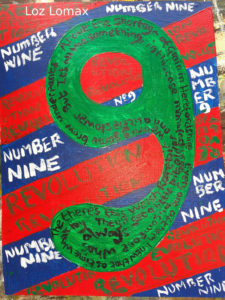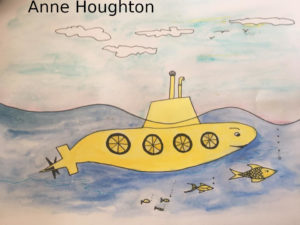 Here Comes the Sun. Week 10 of our PPP a Beatles theme. It looks like fun was had by all!
This week's PPP photo has been selected by Pauline Collins. No rules just start the image this week and have it completed and sent to Kev by next Wednesday.
Week Nine – 13/5/20 to 20/5/20
Here we have the paintings for Week 9, Judith's lovely image of Barra. 19 artists took part this week, and again the images are all very different. Well done everyone.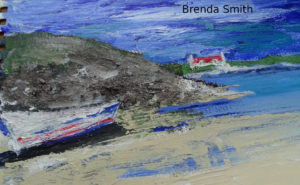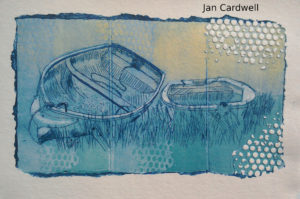 This week – Beatles' song titles – Yeah, yeah yeah!! (No solo artists b.t.w.)
Week Eight – 6/5/20 to 13/5/20
Please note: 'Call to the Wild' was based on the May competition shown in the diary, but not meant as a competition, as mentioned last week (in error). Consensus is 'keep it simple' and many thanks to Kev for running it and preparing all the images for uploading. I'm sure it has helped everyone stay focused and involved during this time. Cheers Kev ?
This week we are off to Bara, Scotland using a suggested photo by Judith Herring. Hope you all enjoy. No rules just paint it this week and have it ready for showing next Wednesday.
Come on join in you know it makes sense. Keep Painting and stay safe.
Week Seven 29/4/2020 to 6/5/2020
This next week is our monthly competition 'A Call of the Wild', so there is a voucher to win and we will need votes on Show and Tell once all the entries are displayed on here. Good luck!
Week Six 22/4/2020 to 29/4/2020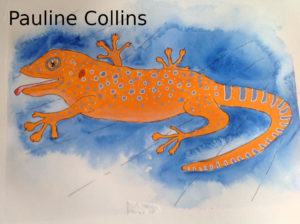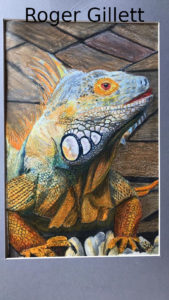 Great imagination all round this week with the Iguanas! (…what's Julia drinking??!!)
This week (7) its a Bluebell Wood (at Worden Park).
Week Five 15/4/2020 to 22/4/2020
Great turn-out again this week!
Here's something different, dreamed up by Kev –
Add colour and stand back!
Week Four 8/4/20 to 15/4/20 Kev's Tulips: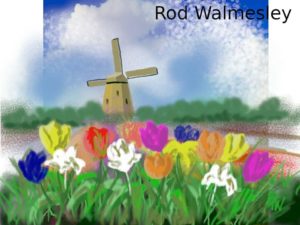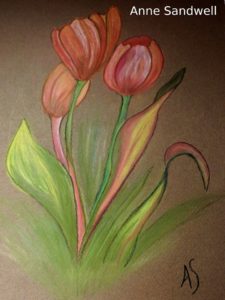 Phew – good show this week, 18 entries and such variety!
Next project – Spanish Street (from Kev's holidays):
Week Three 1/4/20 to 8/4/20 The style of Jack Vetrianno:
   Great job again – especially those who created their own! Have a go at Kev's tulips this week….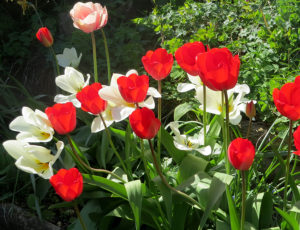 Week Two 25/3/20 to 1/4/20 – Landscape 'River Hodder at Slaidburn'. Well done guys – great selection of styles!
Here are the results of the first week of Kev's 'Show and tell' projects – 'Portraits':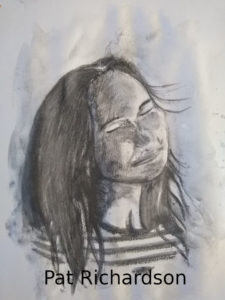 The next project (this week) is this landscape 'River Hodder at Slaidburn':
In view of the current crisis we have had to cancel the demo this Wednesday (18th March) and will not be holding any meetings until further notice to comply with the advice issued by the government. Keep safe, keep smiling and

keep painting

!
Meeting cancelled tonight (22/01/20) due to fog.
Please let anyone know who doesn't check emails, website or 'show and tell' Facebook.
The Winners of 41st Annual Exhibition 2019 are announced…
At a Preview Event in The Farmhouse Gallery last Friday the 10 winners were announced by Alistair Sheret of Longridge Gallery and presented by The Mayor of Chorley, Hasina Khan.
As he presented the awards Alistair congratulated the society on the very high standard of work in the exhibition.
'Best in Show' award was Graham Sutch for his oil painting 'Beware the Sumatran Beauty'. As Graham could not attend, his wife collected the cup on his behalf. Best Pastel was won by Val Jones for 'Penmon Point, Wales' and Alistair commented that there were many other excellent pastel paintings in that category this year. Best Wildlife was won by  Roger Gillet for his coloured pencil 'Looking at You'. A special 'Best Oil' award, in memory of Ernie Ingham and donated by his family, was won by Kev Fowler for his stunning 'Made My Day' sunflowers. 6 Highly Commended awards were won by Pauline Carr, George Horsfield, Pat Richardson, Pauline Collins, Anne Hoghton and Rod Walmsley. Two paintings were sold on the day.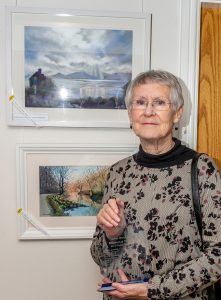 Lodge Artists' 41st Annual Exhibition
starts with our Preview Event which is at 11am Friday 29th November in The Farmhouse Gallery where our judge, Alistair Sheret from Longridge Gallery will announce the winners and The Mayor will present the awards.
The exhibition will be open every Friday, Saturday and Sunday until Sunday 22nd December 12noon – 3.30pm. Don't miss it! All new original works in all sizes and assorted media at amazingly low prices!
Admission is FREE.
One Day Sale at HQ a great team effort!
Our one day exhibition displayed a huge array of superb work at bargain prices. Lead by Polly, a team of members put together an impressive exhibition in record time on the morning. In spite of inclement weather about 80 visitors came through the doors and £97 of paintings and cards were sold.

Lodge members inspire local school's art class
Lodge members Rod Walmsley and Julie Harling kindly responded to an appeal from deputy head of St. Mary's School, Chorley (Jessica) to come and give her year 2 class some inspiration and tips on sketching. In two lengthy sessions, the pair took them from recognising shapes and forms to applying colour first to line drawings of local landmarks. The children thoroughly enjoyed it and produced some great work.
  Great job Rod and Julie!
BBC studios need artists…
We have been contacted by the BBC to encourage members to apply to be on the next series of HOME IS WHERE THE ART IS'. Anyone interested can get an application form by emailing artistsartshow@bbc.co.uk

Lodge Summer Exhibition is a Big Success!
This year's exhibition in the Farmhouse Gallery, Astley Park saw 1,860 people through the doors and 17 paintings sold. Many people voted for their favourite painting and the clear winner was a pastel by Val Jones – Evening Light, Windermere. Val's piece was among the 17 sold, of which two were hers. Val received the new 'Bob Carr Award', presented by Polly Carr in memory of her husband who died last year. Bob was a very popular and hardworking member of Lodge for many years, also assisting Polly during her years as Chairman.
This is the list of paintings sold:
Sue Barns 'Waders over Water' £60
Polly Carr "Autumn on Arran' £80
Pauline Collins 'West from Arran' £30
Pauline Collins 'The Flat Calm' £40
Pauline Collins 'Hare Moon' £20
Kev Fowler 'Across the Bay' £80
Lesley Gardner 'The Echinacea' £40
Rosie Rimmer The Stream' £100
Rosie Rimmer 'Smithills Moor 1' £55
Rosie Rimmer 'Smithills Moor 2' £50
Julie Harling 'Echinacea' £40
Judith Herring 'Hebredian Heaven' £95
David Jenkins 'The Goit 2' £100
Val Jones 'Hydrangea' £65
Val Jones 'Evening Light, Windermere' £65
Rod Walmsley 'Ingleton Falls £105
Pam Williams 'Clematis' £40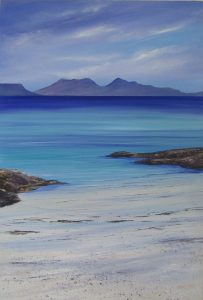 Top 20 People's Vote:
1. Val Jones 'Evening Light, Windermere' 85
2. Graham Sutch 'Summertime by the Lake' 43
3. Judith Herring 'Hebridean Heaven'  32
4. Polly Carr 'Autumn on Arran'  29
5. Jackie Williams 'Spring in White Coppice' 25
6. Val Jones ' Hydrangea' 24
7. Pauline Collins 'Summer in Tiree' 18
8. (joint)Rod Walmsley 'Whisper of Light' 17
8. (joint)Ann Houghton 'Party cats' 17
9. Graham Sutch 'Happy Hour in the Ngorongoro' 13
10. Roger Gillet 'Girl with Dog' 12
11. Rod Walmsley 'The Courtyard Astley Hall' 11
12.(joint)Val Jones 'Towards Bank Clough' 10
12. (joint) Jackie Williams 'Budapest' 10
12. (joint) Kev Fowler 'Across the bay' 10
13. (joint)Roger Gillett 'Lions' 9
13. (joint) Rod Walmsley 'Woodland Walk' 9
14. (joint)Julia Rowley 'Keeping Watch' 8
14. (joint) Rosie Rimmer 'Ardalanish Mull' 8
15. Jackie Williams 'Prague by Night' 7
1-5 in the top 20 of the people's votes can be seen in our Gallery
Take a look at Rod Walmsley's great panoramic Urban Sketching in Walton Le Dale on our 'show and tell' Facebook page.
Summer still life – 'in and around the potting shed'
Members did some colourful sketches based on images posted on our demo page at this week's meeting. Here are a few of the resulting sketches.

17 paintings sold at a very successful exhibition!
Our summer exhibition wound up this weekend with another soggy flower show but a good flow of visitors and many appreciative comments in our visitors' book. Many people showed interest in visiting one of our meetings and took away information about the society and our other exhibitions. Among those to sell was the largest painting in the show, a magnificent acrylic on canvas by Polly Carr 'Autumn on Arran' which was created on the Lodge's Annual trip to Scotland this year. See others on our Facebook 'show and tell' page.
Visit our latest exhibition
in The Farmhouse Gallery Astley Park, Chorley. A large selection of original paintings, many of local views – 4 sold already!


Non- members welcome!
Well done Rod!

Lodge member, Rod Walmsley achieved a Very Highly Commended award for his painting in the Brownedge Exhibition this year.
Operation Snowdrop – volunteers needed!
Astley Park need volunteers this Saturday morning to help plant 10,000 snowdrops to fill in the gaps in the snowdrop trail. Willing helpers please turn up in the Courtyard (by café ambio) at 9.30am, with a spade if possible!
Members Closed Facebook Group
Make sure you take full advantage of our 'Show and Tell' Facebook page. Only members will be able to see it (policed by our Kev, Vice Chair). A chance to share ideas, get some feedback on your latest project or find out about exhibitions and workshops in the area. Just click on the 'f' at the foot of this or any page.

'People's Choice 2019' is The Owl & Pussy Cat!
The most popular painting with visitors to our 40th Annual Exhibition 2018 was The Owl and Pussy Cat by Patsy Todd, closely followed by Winter Trees 2 by Pauline Collins, which was also chosen as number one Members' Choice.
Joint runners up for Members' Choice were 'Down by the River' by Kev Fowler and 'Impressions of Budapest' by Jackie Williams.
 Winners of the 'People's Vote' and 'Members' Vote'.
Other results of the People's Vote were:
3rd 'The Calm' by Pauline Collins
4th 'Canal, Hebden Bridge' by Rod Walmsley
5th 'Blue Danube' by Jackie Williams
6th 'St. George's Church' by George Horsfield.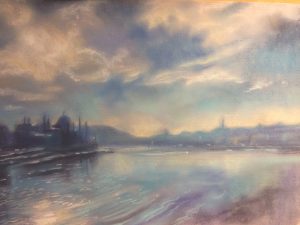 Jeremy Ford Workshop
A watercolour step-by-step workshop of the painting he demonstrated in gouache for Lodge Artists last year.
Venue: Birkdale United reformed Church Hall, Grosvenor Rd, Birkdale, Southport, PR8 2ET. 9.30 – 4.00. Thursday 7th March.
Cost:£40.00.
Bring your own watercolours & painting equipment, watercolour paper, etc. Tea & Coffee provided, bring your own lunch.
If anyone would like to attend they can either send a non-returnable deposit cheque for £20.00 to address below or Paypal him: https://paypal.me/jfordart
Quarry House, Quarry View, Wakefield Road, Ackworth, Pontefract, West Yorkshire, WF7 7AA.
The balance is then payable on the day.
web site: www.jeremyford.co.uk
Celebrating 40 years
Polly was back with us to celebrate 40 great years as the best local art society! Cake made and iced by the Sidebothams – it was delicious!

Chorley Markets star in Lodge Artists' 40th Annual Art Exhibition
Lodge Artists, Chorley celebrated their 40th anniversary with a preview of their latest exhibition of around 70 original paintings in the Activity Space in Astley Park last Friday evening (30th November). Councillor Alistair Bradley, presented the awards and was delighted to hear from judge Nikki Taylor, Head of Runshaw Visual Arts, that she had selected  'Chorley Markets' by George Horsfield for the top award 'Best in Show'. The Council had already expressed an interest in acquiring a print of the painting to display in the market area and prints are available to buy from George's Facebook page. Nikki said it had captured the spirit of the market and  the detail was fascinating and true to life.
As he presented the awards Alistair congratulated the society on the contribution they make to the town – by encouraging people to be creative and showing how it can be done by staging such exhibitions. Jackie Williams (Chair) announced that there have been 13 new members this year and the numbers are growing all the time. The society welcomes all ages and abilities to come and try their hand.
Nikki announced that the winners of the best pastel was 'Warlord' by Kev Fowler, who also won a Highly Commended for his acrylic 'Down by the River'. Best Wildlife was won by Graham Sutch for 'Standoff in the Negorongoro' and further Highly Commended awards were won by Val Jones, 'A Gap in the Wall', Pauline Collins 'Winter Trees', Patsy Todd 'Walking to Winter', Judith Herring, 'Whitby' and Rod Walmsley, 'Shady Lane'. A special 'Runshaw Gold Award' was won by June Crawford.
Three paintings were sold on the night.
The exhibition runs throughout December and opening times will be Thursday, Friday 12noon – 4pm and weekends 10am – 4pm.  Admission is free and paintings are for sale at very reasonable prices. There are also a selection of greetings cards featuring members' paintings for sale in support of St. Catherine's Hospice. 
During the  exhibition visitors are invited to vote for another award the 'People's Choice' and members too choose their favourite painting for the 'Members' Choice' award. These winners will be announced after the exhibition has closed.
 2. 3.     4. 5.     6.7.      8.
 9.
 10.
Captions: 
1. Best in Show – 'Chorley markets' by George Horsfield(left) with Nikki Taylor(centre) and Alistair Bradley(right).
2. Best Pastel – 'Warlord' by Kev Fowler
3. Best Wildlife – 'Standoff in the Negorongoro' by Graham Sutch.
4. 'Down by the River' by Kev Fowler
5. 'A Gap in the Wall' by Val Jones
6. 'Walking to Winter' by Patsy Todd
7. 'Shady Lane' by Rod Walmsley
8. 'Winter Trees' by Pauline Collins
9.  'Whitby' by Judith Herring.
10. The Winners l.to r. Nikki Taylor, Patsy Todd, George Horsfield, 
Rod Walmsley, Val Jones, Judith Herring, Alistair Bradley.
Lodge Artists' 40th Annual Exhibition
We are pleased to invite followers of Lodge Artists' work to come to our preview evening on Friday 30th November 2018 where Nikki Taylor of Runshaw College will be judging and Alistair Bradley, leader of Chorley Council presenting the awards. The exhibition will run throughout December and will be open 12noon – 4pm Thurs.Fri. and 10am – 4pm weekends. Also open 1pm – 4pm on the 27th, 28th and 29th December. This year we have 66 paintings in assorted media, large and small, to suit all tastes. Any paintings purchased as Christmas presents can be collected on the 23rd December. The exhibition ends on 29th December.
 This week's Chorley Guardian.
Students' Art Exhibition at Astley Hall
         
This weekend is your last chance to see the work of Runshaw College art students on display at Astley Hall, Chorley. Click here for more information.
We are pleased to announce that Nikki Taylor, Head of School Visual Arts, Runshaw College, will be judging our 40th Annual Exhibition which launches on Friday 30th November at our special preview event 7pm in Astley Activity Space. Lodge Artists 40th annual exhibition runs throughout December, with opening Thursday/Friday 12noon – 4pm, Saturday/ Sunday 10am – 4pm. Admission FREE to both exhibitions.
Tribute to Ernie Ingham
Our dear friend and fellow member Ernie Ingham has died after a short spell in hospital. Ernie had many friends at Lodge Artists and will be sadly missed. He was an extremely talented artist and was often among the award winners at our exhibitions for his extremely detailed landscapes, which he sometimes re-created in different seasons (as shown here).
Local Exhibitions
South Ribble Open Art Exhibition is back for another year. This gives anyone in the Borough of South Ribble an opportunity to enter their artwork for exhibition. You do not have to be part of an art group or society, anyone can enter. Full details are available on the entry form which you can collect from the museum or download here. Feel free to contact the museum if you still have any queries. museum@southribble.gov.uk
Charlie Holt Exhibition
South Ribble Museum and Exhibition Centre, Church Road, Leyland PR25 3FJ, 1st-27th October 2018
His work has its roots in pop art, surrealism and dada and is almost exclusively collage, both traditional cut and paste and digital often combining both …raw material is culled from posters in the streets, magazines and newspapers.
Opened by Mayor of S.Ribble at 11am Saturday 6th October.
3 day event – Friday 21st, Saturday 22 and Sunday 23rd September  on Preston Flag Market in front of the Harris Museum.
"New Longton Artists" and "Preston Art Society" will have stands present on the Saturday displaying their work. Also it is hoped that some Artists will be Painting "En Plein air" in and around the area (weather permitting).
"Up North Printmakers" is a collective of artists producing ORIGINAL prints in the north of England. Eight artists exhibiting etchings, lino-cuts, wood-cuts, dry-points and mono-prints over two weekends at Higherford Mill in the Lancashire village of Barrowford. 
Sat &Sun. 8th-9th and 15th & 16th September 10.00 – 16.00 Admission free. Preview 7pm – 9pm Friday 7th September.
Free car park just past Higherford Mill on the right as you climb out of the village. 
Gillie Charlson Exhibition (Lodge member) – Sept 5th – 29th
at Urban Art Studio, 11-12 Whiteside Buildings, Back St.Annes Road west, Lytham St.Annes FY8 1RD
Open evening Friday 7th September 7pm-9pm (all welcome)
Opening hours: Tues/Wed 2-6pm, Thurs 6-11pm, Fri/Sat 7pm-1am
' Illusions' by members of the Mill Barn Artists
at the Lytham Heritage Centre, 2 Henry Street Lytham, FY8 5LE
The Exhibition will run till the 23rd  September, Open Tuesday – Sunday 10 – 4 and Bank Holidays
Art Club of the Year Competition
Lodge Artists are entering the Leisure Painter Art Club of the Year competition this year and 5 Paintings were chosen at last week's meeting by members' vote to be our entries. Paintings were by Kev Fowler ('Don't fence us in'), Val Jones (still life), Jackie Williams (Budapest), Rod Walmsley ('In the Shade') and Graham Sutch (Rhinos).
Astley Hall Biennial Art Competition
To enter, please call 01257 515928 or email rory.macdonald@chorley.gov.uk NOW to arrange for a day to deliver your artwork to Astley Hall.
Exhibition dates – Saturday 15 September 2018 to Sunday 11 November 2018
Launch morning tea & coffees: 11am Saturday 15 Sept.
Maximum of two pieces per entrant. All works to be delivered to Astley Hall between 9am-5pm Monday 10, Tuesday 11 or Wednesday 12 Sept (we will set a day to take them all in together).
Collection of pieces will need to be 9am-5pm again, Monday 12 – Wednesday 14 November.
There will be two awards as usual, a Judges Award and People's Choice, with the winner of the Judges Award getting to use the gallery for their own exhibition for roughly the same dates in 2019.
New Exhibition Venue – Brockholes Nature Reserve, Preston New Rd, Preston PR5 0AG
Lodge Artists have been invited to stage an exhibition of original paintings in the Ice Cream Parlour at Brockholes throughout August and September this year. All works are for sale and subjects are flora, fauna and wildlife.
Art Club of the Year Competition
The competition is open to art clubs across the UK. Only online entries can be accepted. Only original work will be considered and paintings based on reference photographs must have been taken by the artist or used with the permission of the photographer. Photography, except where incorporated into collage, is not acceptable.
FIVE entries per art club of two-dimensional work in any media.
No entry should be larger than 120x150cm WHEN FRAMED (canvases do not need to be framed).
Entries will be judged after September 9 when selected art clubs will be called for exhibition. All work must be framed (canvases excepted) ready for exhibition from October 13 to November 11, 2018 at Patchings Art Centre, Nottinghamshire.
Successful art clubs will be notified during the week commencing September 16 about delivering their work between 1 and 8 October to Patchings Art Centre.
All care will be taken with entries but no responsibility can be accepted for loss or damage in transit, incoming or outgoing, whilst on the competition premises or during the exhibition. Originals selected and submitted for final exhibition must be fully insured by the artist.
Original works must be left with the organisers throughout the exhibition.
By entering the competition you agree to allow The Artist and Leisure Painter and PaintersOnline to repurpose your artwork in both print and digital formats, including but not limited to magazines, websites, databases and as part of downloadable digital products.
Blackrod Art Group
A  coach trip to  Holmfirth booked for Wednesday, 4th July. Coach will leave from Blackrod approx. 9.15am, £15.00 cost. Holmfirth hosts a week's Art Festival and Art trail, we have planned our visit to coincide with it. Holmfirth is a lovely town, amidst amazing scenery, and of course, home of 'Last of the Summer Wine'. it also has Ashley Jackson's gallery which is well worth a visit.
Other trips scheduled are: Grasmere for the Lake Artists exhibition on Wednesday, 22nd August. Bowes Museum (a long journey- but well worth it) 17th October. All welcome.
Astley Hall Biennial Art Competition
Exhibition dates – Saturday 15 September 2018 to Sunday 11 November 2018
Launch morning tea & coffees: 11am Saturday 15 Sept.
Maximum of two pieces per entrant. All works to be delivered to Astley Hall between 9am-5pm Monday 10, Tuesday 11 or Wednesday 12 Sept (we will set a day to take them all in together).
Collection of pieces will need to be 9am-5pm again, Monday 12 – Wednesday 14 November.
There will be two awards as usual, a Judges Award and People's Choice, with the winner of the Judges Award getting to use the gallery for their own exhibition for roughly the same dates in 2019.
 Tribute to Bob Carr
It is with great sadness that we must announce that one of our well-loved members, Bob Carr, passed away at 4pm yesterday 14th May 2018. Bob has worked hard for the society for many years, assisting Polly during her time as Chairman in particular. He was extremely popular and will be sadly missed by Lodge members and friends. Our deepest sympathy goes out to Polly and her family.
9th Annual Art Trail, Southport Contemporary Arts
12th – 20th May 2018
for more info. see www.sca-network.co.uk

Great results from Tony Barrow Workshop
 Lesley Gardner (member) painting 
Kev Fowler (member) painting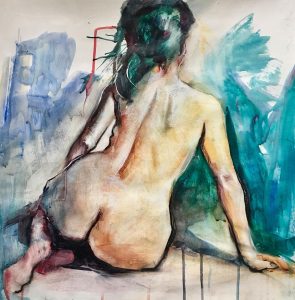 Tony produced the above two paintings during the day's session. Examples of members' work to follow. Great insight into Tony's amazing techniques.
Tony Barrow Workshop – Saturday 28th April at Lodge HQ
  
A chance to try out Tony's brilliant technique in a full day workshop 9.30am to 4.30pm. One place only still available. Just £20. Amazing value! Enquire here for full details – info@lodgeartistschorley.org.uk
Farington Art Group
Demonstration by Judith Herring – Acrylics.
£3  with refreshments and raffle.
Thursday 19th April 2018  7pm-9pm in St Pauls Church Hall, Farington.
Art Club of The Year
Lodge Artists will be entering the Leisure Painter Art Club of the Year 2018 and will hold a competition to select the 5 paintings to represent the Society in the summer (deadline date to be announced). Last year's winner was Cardigan Art Society and their selection covered many different media including a collage and a lino print. Shortlisted entries will go forward into the Patchings Exhibition 13th October to 11th November 2018 from which the overall winner will be selected. More details to follow soon.
 
What Other Groups are doing…
Green Door Annual Art Auction,
Wednesday 28 March, 7pm
at Space2Create, Studio 31 (Unit 31), The Factory, Castle Mills, Aynam Road, Kendal, LA9 7DE.
More info.. https://greendoor.org.uk/art-auction/
Blackrod Art Group

– coach trip to Hepworth Gallery,Wakefield and Yorkshire Sculpture Park Wed. 2nd May.
Coach £15, entry free to both venues (donations).
For more information, contact: ajspencer2@outlook.com
 Judith Farnworth – All Day Workshops
St Elizabeth's Church Hall, Cedar Ave, Horwich, Bolton BL6 6HT.
25th April – Watercolour Portraits
23rd May – Brusho Figures
£30 for the day (10.00-3.00) and I will need a £15 deposit on booking. Tea/coffee and biscuits will be provided, please bring your own lunch.
www.artbyjudithfarnworth.com
More info: http://judithfarnworthart.blogspot.co.uk/
People's Choice goes to Steve
   People's Choice – Kingfisher, by Steve Sidebottom
  Members' Choice – Wild Wood by Pauline Collins.
Winner of the people's vote, given by visitors during the annual exhibition, went to 'The Kingfisher' by Steve Sidebottom, after votes were counted by chairman Polly Carr at last week's meeting. The Members' Choice award went to Pauline Collins for her painting 'Wild Wood'.
Lodge 39th Annual Exhibition is on now!
This year the exhibition is in The Farmhouse Gallery and is open daily from 12noon to 3.30pm throughout December. Great chance to buy some original art at reasonable prices.
.
Rosie Rimmer's oil painting of 'The Pike' won the Ray Landless Best in Show award and the first painting to sell was by George Horsfield which sold on the preview night
.
See exhibition page for details of other winners.
Members' Christmas party 2017
Christmas panel goes up at B.W.A.R.A. !
The colourful display of festive squares created each year by Lodge members brings Christmas cheer to the headquarters and is generally enjoyed by all the club members.
Our 39th Annual Exhibition is coming up!
Lodge members are busy preparing work for our fantastic annual exhibition which will be in The Farmhouse Gallery, Astley Park from 2nd to 23rd December inclusive, plus 30th & 31st December, with a preview evening on Friday 1st December 7pm.
Members chose a painting by George Horsfield entitled 'Miss P.' to feature on publicity material for the exhibition.
Opening times are: 12 noon until 3-30 pm daily. Entry free. Come and see some fabulous original paintings by local artists, available to buy at bargain prices.
Members and Guests enjoy Lodge Social Evening
Another successful social evening was held at Lodge HQ this week. Guest from other local art groups joined us for a relaxed evening and art competition, with quiz, supper and raffle prizes. Paintings were selected by each society and everyone voted for their two favourites. Winner was George Horsfield for his painting, which is being used on publicity for our annual exhibition. Second prize was awarded to Elise Hendry and in third place was her husband Dave Hendry. The couple were on their honeymoon having recently married.
Our 39th Annual Exhibition is coming up!
Lodge members are busy preparing work for our fantastic annual exhibition which will be in The Farmhouse Gallery, Astley Park from 2nd to 23rd December inclusive, plus 30th & 31st December, with a preview evening on Friday 1st December 7pm.
Opening times are: 12 noon until 3-30 pm daily. Entry free. Come and see some fabulous original paintings by local artists, available to buy at bargain prices.
Come along to our one-day Exhibition

One day only Sunday 17th September at our HQ in Brinscall. Paintings by local artists to view and buy. Entrance Free. 10am – 4pm. Everyone welcome!
Lodge Artists' 'Summertime' Exhibition
Farmhouse Gallery, Astley Park, Chorley Friday 30th June 2017 to Sunday 30th July 2017. Entry Free!
deadline 7th July 2017.
Don't miss New Longton's Exhibition!

Well done George!
Lodge member George Horsfield was awarded 'Best in Show' at this year's Brownedge Festival, for his charcoal portrait entitled 'Young Marilyn'.
Guardian covers results..

Christmas Wall is up!
Our ever-popular Christmas wall, made up of squares painted by members, is now on display at our HQ at B.A.W.R.A. in Brinscall.

Annual Exhibition results
MP Lindsay Hoyle declared that the Society is clearly going from strength to strength as he presented the awards to the winning artists at the 38th Annual Exhibition in Astley Hall on Friday 11th November 2016.
Best in show Ray Landless trophy was awarded to Rosie Rimmer for her painting in mixed media – 'The Ocean'.
The Ron Hobson 'Wildlife Trophy' was awarded to George Horsfield for a dramatic ink drawing entitled
'Rhino' and June Crawford won the 'John Buckles Memorial Trophy' for her pastel painting of 'Bertie and Bess'.
Six other members received 'Highly Commended' awards for paintings that judge Gerry Halpin MBE felt showed particular creative skills.
These were: Brenda Smith for her water colour 'Walk through the woods', Stephen Cross for his oil on
canvas 'The Path by the Lodge', Roger Gillett for his pencil drawing 'Making a Splash', Pat Richardson for
Harvest Time, Loz Lomax for Copse Sunlight, and Val Jones for Summer Harbour.
The exhibition is open every weekend until 18th December. 12noon – 4.30pm Saturday and Sunday through November and 10am – 4.30pm December.
Tribute to Sheila Poole
(who died 1st October 2016)
Sheila was a much loved member of The Lodge Artists Society, Chorley and until recently came to meetings especially when we had a guest speaker. She was a talented artist, willing to share her knowledge with others.
Sheila was a very interesting person who had many hobbies an skills, we have missed her as her health deteriorated preventing her from living the active life she had always loved. 
Sheila's son, Kevin Poole, writes "She was very frustrated that her health kept her from carrying on with the Lodge, which she had always immensely enjoyed – she still treasured the photo album from her 80th birthday celebrations with you in 2009.  I remember coming to a meeting with her a few years ago, and I was struck by the warmth and friendliness of everyone.  She always took us to see the annual show at Astley Hall if we visited when it was on." 
Don't miss our annual exhibition in Astley Hall
Every Saturday and Sunday from 12th November to 18th December. Preview evening Friday 11th 6.30pm – all welcome. Opening times 12noon – 4.30pm November and 10am – 4.30pm December.

Farmhouse Exhibition a Great Success once again!
This year thousands of visitors came to see the 'Summertime' exhibition – 1,100 over the Chorley Flower Show weekend alone – and 12 paintings were sold. Many people also took away flyers with an invitation to attend a meeting free of charge and see what the art club is all about. New members are always welcome.
Farmhouse Gallery, Astley Park – Summertime Theme.
Exhibition in the Farmhouse Gallery 2nd July to 30th July.
Monday, Wednesday, Friday, Saturday and Sunday, 12 noon until 3-30 pm
——————————
 Read about it in this week's Chorley Guardian!
Pauline wins Members' Choice and Public Choice awards.
 
Every year visitors are invited to vote for their favourite painting in the Lodge Artists' Annual Exhibition, held this time in the new Farmhouse Gallery in Astley Park during November and December.
The Members also have a separate vote for their favourite piece of work. This year Pauline Collins won both awards for her beautiful acrylic painting 'The Bay' which featured a sky of dramatic clouds and beautiful shades of blue, mauve, pink and grey in the wet sands, with flocks of seabirds. 'The Bay' also won the 'wildlife award' judged by local artist Anthony Barrow at the preview in November. Pauline won the Members' Choice award last year for her painting 'Fifty Shades of Grey', also a seascape.
Runner up for the People's Choice was a painting with images of Chorley by Jackie Williams, soon to be on display in the town hall, and in third place a seascape by Judith Herring.
The exhibition was enjoyed by over 2,000 people during the 6 week run, and 16 paintings were sold. A special painting donated by one of the society's regular demo artists, Harry Caunce, after a recent visit to the Society, was also on display during the exhibition and raffle tickets were sold for it in support of St.Catherine's Hospice. Visitor Gillian Smith pulled out the winning ticket on Saturday 20th December, the final day of the exhibition, and the winner was Debbie Carr. Debbie's husband Graham and son Calum received the painting on her behalf from Chairman Polly. The raffle raised £115 for the Hospice.
Our Christmas wall at Lodge HQ

Once more this year Lodge members have created a Christmas wall 7′ x 4′ for B.W.A.R.A. members to enjoy.
'Giant Thistle' wins Best in Show award
Presenting the awards at the preview night of the 37th Annual Lodge Artists' Exhibition in The Farmhouse Gallery on 13th November, the Mayor of Chorley, Councillor Marion Lowe, said that she already has a painting on her wall at home which was purchased eight years ago when her Consort was Mayor and performed the same duty for the Society.
Judge Anthony Barrow, a well-known local artist and tutor who is familiar with Lodge members from his demonstrations and workshops over recent years, said it took him a long time to choose the winners as the standard is so impressive. He was influenced by technique, use of colour and artistic quality and particularly favoured those works that showed an interesting variety of texture.
The top award 'Best in Show' was won by Pat Richardson for her painting 'Giant Thistle'. Best pastel painting award went to Polly Carr for 'From Arran' and the Wildlife prize to Pauline Collins for 'The Bay'.
Others who received the six 'highly commended' awards were Julia Rowley, Jackie Henry, Stephen Cross, Jackie Williams, Rosie Rimmer and Janet Cardwell.
'The People's Choice' will be announced at the end of the exhibition and everyone who visits is encouraged to vote for their favourite painting. The exhibition is attracting a lot of attention and many paintings have already been sold but remain on display until the close.
The exhibition is open Monday, Wednesday, Friday, Saturday and Sunday 12noon – 3.30pm.
See all the winning paintings in our gallery.
  
37th Annual Exhibition starts this weekend!
Preview evening 7pm. this Friday (13th November).
Harry Caunce Workshop
Lodge artists enjoyed a special Harry Caunce workshop last Saturday at their B.W.A.R.A. headquarters in Brinscall.
Brenda wins October Competition to feature on the Poster and Programme
with her colourful work 'Echinaleas' created in oil pastels.

Brenda Smith's painting was chosen by members to feature on the advertising material for this year's exhibition in Astley Park. Because of refurbishment, this year's exhibition will be held in The Farmhouse Gallery, not Astley Hall. Members display up to 5 paintings each in the hope of winning one of the awards and maybe selling some in the weeks from 13th November to 20th December.
Lodge welcome neighbouring art groups to Social Evening
60 members and guests enjoyed a social evening at Lodge HQ on Wednesday 30th September with hotpot supper and prizes for the quiz and the painting competition. The winning painting, by David Halliwell of Westhoughton art group, was chosen from approx 30 paintings submitted from all groups represented. Second prize went to Steve Sidebottom of Lodge Artists. Prizes were also awarded to three artists with equal votes in third place.
The Winner – David Halliwell                                   Second Prize – Steve Sidebottom
Don't miss our One-Day Exhibition at B.W.A.R.A. School Lane, Brinscall this Sunday 10-4pm.
Your chance to buy original art at low, low prices and see what Lodge Artists is all about. Entry free. Everyone welcome.

Wall to wall paintings in our Cafe Ambio exhibition – coverage by Chorley Guardian.

Lodge Artists mourn a dear friend and talented artist – Ron Hobson.
At tonight's meeting chairman Polly paid tribute to Ron Hobson, a long standing member of the society, who died on Monday, and asked members to stand for a minute's silence to remember him.
She said "Our thoughts and prayers go out to Pauline and the family. Ron was a member for more than 25 years and influenced the development of the group over that time, as Chairman and supporting the committee. His paintings are outstanding, but he always appreciated and encouraged other members. We shall miss him very much."
Wet-on-wet demo by Malcolm Bullock
Lodge members were given a live demo of Malcolm Bullock's watercolour techniques as he painted one of his favourite views, using a limited palette of watercolours and finishing off with light detail in ink.
Polly wins First in Portrait Competition
Chairman of Lodge Artists, Polly Carr was awarded first place in the 'pencil portrait' category at The Haigh Show on 16th August. Well done Polly!
Message to Lodge Artists:
'The exhibition was fantastic, I loved it.  Thank you so much for your forethought.  Next year if we get into the Britain in Bloom (or not) it would be great if you could join in with us again. Good luck with the Exhibition and would you thank everyone for their hard work from Chorley in Bloom.' Iris Elaine Smith, Chairman of Chorley in Bloom.
Congratulations to Chorley in Bloom for the fabulous displays around the borough. The wild flowers are amazing.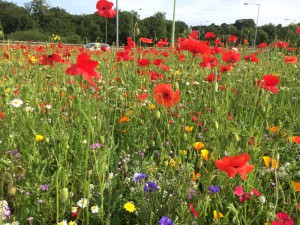 Poppies on Blackburn Road.
'Blooming Beautiful Brushworks' exhibition opens in The Farmhouse Gallery 4th July- 2nd August 2015.
  
The hard-working team putting the exhibition together on Friday were photographed with their work for a feature in the Guardian next week (14th July). Watch out for it and get your copy!
Chorley Guardian feature our next exhibition
Our local newspaper have supported us again with a mention about our next exhibition in the Farmhouse Gallery.
Brinscall Fun Day (in the rain!)
Lodge Artists took part in Brinscall Fun Day at our B.W.A.R.A. headquarters once again this year, braving the weather and selling unframed paintings by members with proceeds going to charity. Members Julia and Brenda enlisted some neighbouring kilted stallholders to brighten up the photo!
Happy Birthday to Judith!
Lodge member Judith Herring got a big surprise at the weekly meeting when presented with a cake to celebrate her 50th birthday, depicting her as a beautiful, (well-endowed) mermaid!

Support St.Catherine's Hospice
Lodge Artists' paintings are featured on greetings cards for sale at the St. Catherine's Hospice bookshops in Chorley and Ashton (Preston) and also the hospice shop. Left blank inside for your own greeting, the cards are in assorted sizes and retail for from £1.50, all of which goes to the hospice funds.
Lodge Exhibition celebrates Chorley in Bloom
Our next exhibition in Astley Park Farmhouse Gallery is on the theme of 'Blooming Beautiful Brushworks' and will show original paintings by members in various media on the subject of flowers, nature, Spring, the country side, all of which make for very colourful, attractive paintings. See attached poster for dates and opening times. Come and see our work and take the opportunity to buy an original work for your home at extremely reasonable prices.
Barton Grange Exhibition Spring '15
This year saw over 500 visitors viewing paintings by our members in an exhibition at Barton Grange Garden Centre and, once again, many children joined in to create their own display.
Sunnyhurst Wood Visitors Centre, Darwen – 
our latest exhibition venue for the sale of original paintings by local artists 
Opening times: Winter: Thursday to Sunday 12 – 3:30pm
Summer: Thursday, Friday, Saturday, Sunday and bank holidays: 1pm-4.30pm.
3rd April to 17th May 2015.
New diary and 2015 flyer now published
 
Chorley Guardian 3/12/14
 Christmas Squares wall panel for our HQ!
This is the wall panel we created tonight at the Lodge meeting to provide a start to the festive feeling at our HQ at B.W.A.R.A. in School Lane, Brinscall. 26 members each did a painting 12″ x 12″ on a Christmas theme of their choice. Just two spaces left to fill!

We're on Chorley FM – listen up to Dom Molloy on Drive Time Wednesday 26th November  4-6pm!
Lodge have been asked to do a spot on Dom's popular tea time show to talk about the Astley exhibition, what we do, how to join and why Lodge is become more and more popular with art enthusiasts of all ages in the Chorley area.
£70 donated to St.Catherines' Hospice!
At last week's meeting we had a clear out of the store cupboard and a sale among members of books and materials which raised £70 for a donation to St. Catherine's Hospice. Well done everybody!
 Astley Exhibition – top quality work from a thriving society..
That's how David Tetlow, Cultural Assets Manager, Chorley Council and judge Tracy Hewitt described the work of Lodge Artists members, on display at the preview night of the 36th Annual Exhibition in Astley Hall. David was pleased to see an increased variety of ages within the society, an influx of new members and recent increased activity by the society, adding to the creative resources available to all in the town.
 David  Tetlow and Tracy Hewitt
 Polly Carr, Chairman, welcomes guests and members.
 The winners
36th Annual exhibition preview Friday 7th November
Lodge members are preparing for the annual exhibition held in Astley Hall every November/December. See poster for details.

Farmhouse Gallery opens with a Lodge Artists' Exhibition
A great new facility is now open in Astley Park, next to cafe Ambio, and will display the work of local artists and photographers throughout the year. Lodge Artists' exhibition will run until March 2015. The gallery was opened by the Mayor of Chorley last Friday (17th October), pictured here with Lodge Chairman Polly Carr (left). Paintings are for sale  – a chance to own original works of art at very reasonable prices.
The Dressers Arms re-opens in November – featuring Lodge Artists!
Chorley's most popular pub will be back in business soon and is supporting Lodge Artists by offering a wall in one of the bars to exhibit local art produced by the group. Congratulations to Steve and Trudy for getting through this crisis and for their determination to get open again so quickly – because the regulars are all dying to get back!
 Lodge Artists will launch the new Farmhouse Gallery

Lodge Artists were delighted to be invited to stage the first exhibition in the new Farmhouse Gallery at Astley Park (next to Cafe Ambio). It will start on 18th October and run until March 2015 – see poster for details. It will serve as a very welcome outlet for creative people in the Chorley area to exhbit their work.
Brinscall Exhibition is a huge success!
Lodge artists were thrilled to welcome so many visitors to their first exhibition at the new HQ in School Lane this Sunday. It was the first of many and several paintings were sold. More importantly many people now know where we are and have seen the very high standard of work produced by our members. Hopefully some will also come and try their hand on a Wednesday night!
Chairman Polly and long standing member Ernie get ready to welcome visitors to the exhibition.
..and there were cakes!
Members Ron and Judith show their appreciation for the wonderful home made cakes.
Art Exhibition – Sunday 21st September
Lodge Artists' members will be exhibiting their work, mostly for sale, at their HQ at Brinscall & Withnall Athletic and Recreational Centre (B.W.A.R.A.) from 10am to 4pm on Sunday 21st September.
All welcome. Come and see some original work by local art enthusiasts on a variety of subjects in oil, watercolour, acrylic, brusho, pastel, pencil and ink. Pick up an original for just a few pounds!
Artists and Bowlers enjoy an afternoon of bowling on B.W.A.R.A. bowling green.

Nasar wins first prize at Lodge Social Evening
Nasar Khan came to the Lodge Artists social evening last night (6th August) and brought his first ever oil portrait of a girl from his native village Swat, Pakistan. He was thrilled to receive first prize when members and guests voted for their favourite paintings from among those submitted by all societies in attendance. He explained that the girl, named 'Pooja', was someone he had helped and campaigned for when she was suffering from exploitation, and so the painting is very poignant.
Nasar has only been painting about a year and explained that in his home town men don't paint as it is deemed inappropriate! He is clearly enjoying his new hobby as a member of New Longton Art Society.
Everyone enjoyed the chance to meet up again with neighbouring art groups and welcome them to the new Brinscall HQ with a great barbecue on a pleasant summer evening.
Polly's Birthday….
   
Polly kindly invited friends from Lodge Artists to her birthday party on Thursday 31st July in her beautiful garden at Fife Close. Everyone enjoyed some wonderful food and drinks in the evening sunshine and helped her celebrate another milestone. We all wish Polly many happy returns and keep up the good work as our chair!
Padstow Reflections by Duncan Ibbotson
As promised, here is the finished 'vibrant pastel' painting demonstrated by Duncan Ibbotson recently at a Lodge Artists' meeting – 'Padstow reflections'.

Great to see some new faces at our open evening last night (2nd July). We look forward to seeing you again at future meetings.

Brinscall Festival – Saturday 21st June 2014
Great interest in the society and our work. 34 paintings were sold on the day. Hope to see lots of people at the Open Evening on 2nd July!

We always welcome and encourage new members.
You can help us by downloading this small poster
and displaying it locally on a works noticeboard,
in a library, a surgery, or anywhere else it might get noticed.
This Chorley Guardian article promoted this year's programme of
exhibitions and events and showed a recent demo
by visiting artist Anthony Barrow.